Infos:
Used Zammad version: 5.1.0-1648060831.1049368f.bullseye
Installation method (source, package, …): package
Operating system: Debian 11
Database + version: PostgreSQL 13.5
Elasticsearch version: 7.17.1
Browser + version: Firefox 98.0.1
Creating a new article (new or existing ticket) as mail with To and CC addresses correctly checks for each of the addresses if encryption is possible (i.e. enables and disables the "encrypt" button accordingly). However, sending this article with encryption and signature enabled generates an email that is only encrypted to the addresses listed in the To field. Example: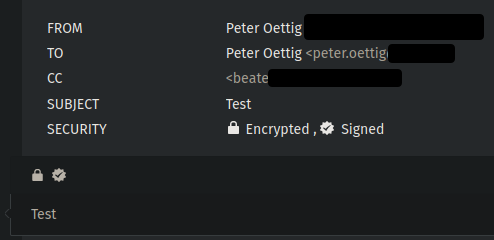 └─$ openssl cms -cmsout -print -in /tmp/ticket-202203259700344-347485.eml | grep -i serial 
        d.issuerAndSerialNumber: 
          serialNumber: 11252863011588097877091389412

Expected behavior:
Encrypted mail is readable by all recipients.
Actual behavior:
Encrypted mail is only readable by direct recipients and not by CC'd ones.
Steps to reproduce the behavior:
Create a new ticket
Select email
Fill To and CC with different mail addresses that you both have an imported S/MIME public key for
Send mail
Download raw version of the created article
Observe via openssl cms that it is only encrypted for the certificate of the "To" address
I am not sure how this is a technical question and not considered a bug, but I was directed here. I can only assume that this might be specific to our installation, so any confirmation of this behaviour in other installations using S/MIME encryption is welcome