Hello,
We often receive very long e-mails so we often have to expand the replies from customers to see the full message. After expanding such reply with "see more" the "see less" button is only at the bottom of the message.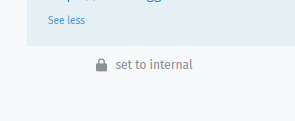 If the agent has already started replying to the e-mail by again attaching all previous answers to the current reply the "See less" button can only be reached with accurate scrolling.
So it would be very helpful if the "See less" button would also appear at the top of the expanded message.
That way one could directly expand and collapse the article without changing your view and after collapsing be directly at the beginning of your new reply again.
BR,
Nino