Hi everyone,
I read this post in Technical Assistance Category : Delete attachment in a ticket
And at the end of it, it is suggested to write a feature request on this board to open a debate on the feature. So, let's see if the feature interest several people !
Delete attachment in a ticket
Need
Users are often not aware of the regulation regarding the transfer and the conservation of personal data. They often send informations they shouldn't to us, like scan of identity documents.
As an organisation, we are not allowed to handle such types of documents, and thus we need to remove them completely out of a ticket.
Solution
A "trash" button could be added next to each attachment. When clicking on it, a confirmation modal will pop up, and if confirmation is get the file will be deleted.
Mockup :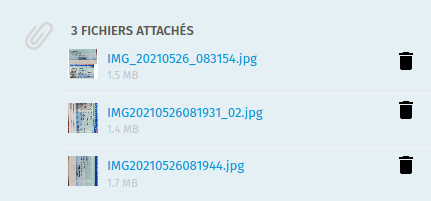 Thanks for considering this feature request !
Olivier.