Hi,
Could you add one more state for tickets? Now We have only: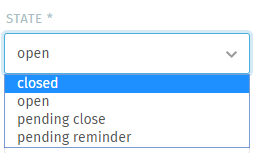 If we would like to view only currently processed tickets (those which our admins currently working on) we have to close the ticket every time when we answer to the client. It is very frustrating for our clients since they think that we dispose of them instead of doing our job for them. Copying the leaders is the best solution so I think the best option would be adding "waiting for the client" state and also adding a possibility to filter those states in overviews (more filters there would be also a good idea).
The same with the open tickets. When the operator sets "pending [something]" state the ticket should go from open tickets to the "pending" views instead of only changing its color. In my opinion, in the "Open" view we should see only currently processed tickets. If the manager would like to see all tickets he should have the "all Tickets" view, where should be the all opened, pending, and waiting for the client tickets.
It definitely would make our work easier as IT admins.
I mean something like this: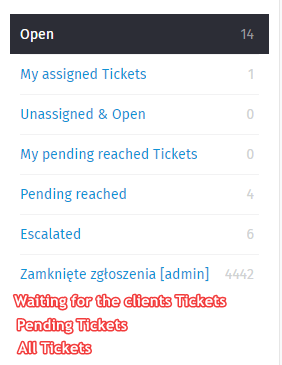 You know, when you have 10 to 20 tickets a day those wishes could look like only the whim but when you are approaching hundreds of tickets it becomes a huge convenience.
Thank you in advance really.