Infos:
Used Zammad version: at time of error 4.1.x / Now 5.0.x
Used Zammad installation type: package
Operating system: Ubuntu 20.4.2
Browser + version: Firefox 91.5.0esr & Brave 1.34.81
Used Elastic search version: at time of error 7.14.0 / Now 7.17.0
Little Background Info
the technician who set this up wasn't me and he was not the most skilled in Linux tasks
so setup errors are possible and i do not know what might be still lurking in the Dark


Also the Zammad wasn't updated since or anything since August 2021 until i did it today

Expected behavior:
Ticket should be Displayed


*
Actual behavior:
Showing: Oops… I'm sorry, but I can't find this Ticket.
*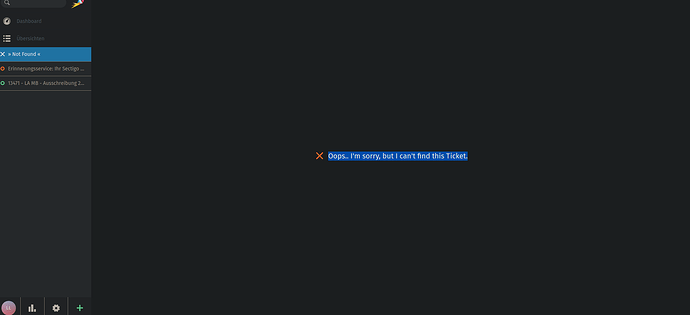 Steps to reproduce the behavior:
Unknown


Last changes were that i have set the following values:
WEB_CONCURRENCY=4
and
export RUBY_GC_MALLOC_LIMIT=1077216 RUBY_GC_MALLOC_LIMIT_MAX=2177216 RUBY_GC_OLDMALLOC_LIMIT=3000100 RUBY_GC_OLDMALLOC_LIMIT_MAX=4000100
Infos from this Forum entry Because the zammad was slow
*
How was it discovered?
The Ticket couldn't be found anywhere and the Link from the reminder mails leads to a dead page.
*
Solutions already tried
Ticket.find_by(number:'982815')
returns
=> nil
No Problem with rebulding the index
Zammad run rake searchindex:rebuild
runs without any errors
*
Other Anomalies
sudo zammad run rails r Ticket.find_by(number:'982815').articles.first.as_raw.content
Returns
-bash: syntax error near unexpected token `('
When Opening the Rails Console with
sudo zammad run rails c
and then run the command for getting the Raw Ticket you get:
irb(main):001:0> Ticket.find_by(number:'982815').articles.first.as_raw.content
Traceback (most recent call last):
1: from (irb):1
NoMethodError (undefined method `articles' for nil:NilClass)
Could anyone please help me to find out what happened to the Ticket and how i could fix this?