Hi,
I have created an account with Twilio, and connected Zammad for both incoming and outgoing and notifications - I have green lights for all sections in the SMS setup. I can send an SMS to zammad and it creates a ticket and even triggers an automatic response.
What I can't do is choose to SMS a client within a ticket, either by replying to an existing ticket or creating a new ticket.
I have ensured the client I am testing with has a mobile number in international format recorded under their details.
If I send a test text message to zammad, it does create a ticket with the phone number which I can reply to, but this is of limited use. I would like to be able to select SMS as an option to send to existing customers, not just an unidentified phone number.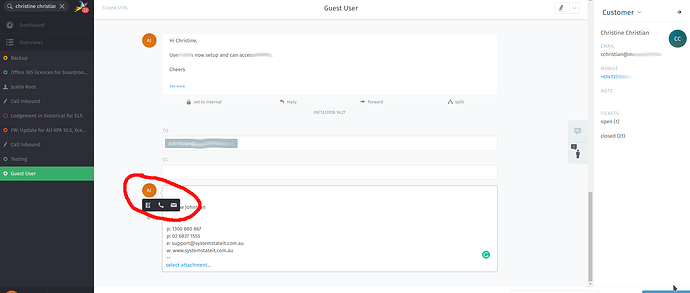 Infos:
Important:
If you are a Zammad Support or hosted customer and experience a technical issue, please refer to: support@zammad.com using your zammad-hostname / or company contract.
Used Zammad version: 2.7.0
Used Zammad installation source: ubutnu apt
Operating system: Ubuntu 16.04.5 LTS
Browser + version: Google Chrome
Expected behavior:
When creating or replying to a ticket there should be an SMS option next to the email icon
Actual behavior:
Steps to reproduce the behavior: