Hello,
In our setup we have many different groups set up and many agents are in multiple groups at once.
To reduce overview clutter each group only gets two specific overviews, one open and one closed.
In open there are all tickets that have not state closed.
That is why we group the tickets in open overview by state.
This works perfectly fine. However we are currently missing a counter next to each state to be able to easily evaluate what kind of changes have happened inside the group.
For the overview tab itself Zammad already does this:


It would be great if something similar could be implemented when grouping tickets by e.g. state as well: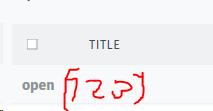 Best regards,
Nino