Infos:
Used Zammad version: 2.8.0-1544012236.272eecf9.jessie
Used Zammad installation source: DEB from repository
Operating system: Debian 8.11
Browser + version: Firefox 52.8.0 ESR (on CentOS 7.5)
Summary:
After having configured the LDAP integration, Zammad is stuck in counting LDAP entries.
Problem Description:
After having configure LDAP Server/User/Password and the mappings, Zammad enters a "Counting entries" mode which never ends (never = not in 4 hours):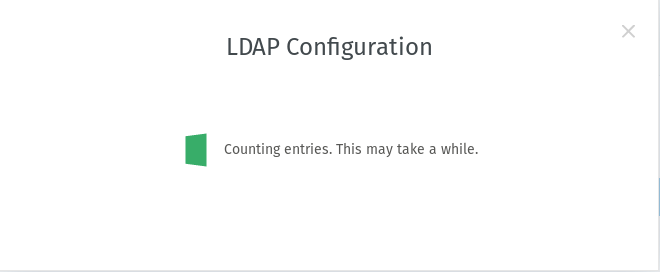 I am quite sure, that the configuration is ok, as Zammad could connect, analyze the structure and get the attributes for the mapping dialogue. The server is an AD server and we do have lots of entries (3000+), but still… (why does Zammad count the enties anyway?).
I haven't configured any LDAP based roles and I haven't touched the "Expert Settings".
I can't see any obvious error messages in /var/log/zammad/production.log.
Any hint on how to debug or solve this problem is highly appreciated.