Infos:
Used Zammad version: 4.1.x
Used Zammad installation type: package
Operating system:
Browser + version:
Expected behavior:
when querying an advanced search, results should match your search query string
Actual behavior:
results are not matching the query string at all. When I try to find tickets of a specific group with no ticket owner and state open or new my query looks like this:
group.name:"FO | Backoffice" AND owner.email:"" AND state.name:(new OR open)
results showing also some tickets of another group and with a ticket owner.
the "wrong tickets" are currently not in the group I've searched for but they were in this group in the past. But I only want tickets that are currently in this group. You can see this on the screenshot: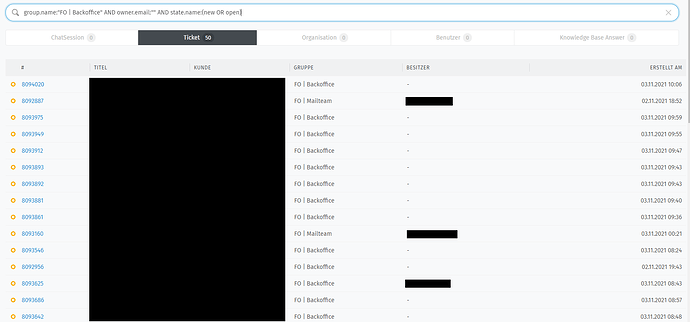 sometimes status is also not filtered correctly and I see also some closed tickets.
if I try to search for created_at:>now-2h there are no search results. First results I get with this query is when increasing the hours to 4h = created_at:>now-4h
Steps to reproduce the behavior:
Try to search for tickets with no owner and of a specific group or try to search for tickets created in the past minutes. In my case I get always some wrong or no results.
I assume it is because of a delayed ES indexation? Sometimes we cannot find a ticket via search which was created about 5 minutes ago. So it should have something to to with that.