Infos:
Used Zammad version: 3.3.x
Used Zammad installation source: (source, package, …): installed via APT
Operating system: Ubuntu 18.04.4
Browser + version: Chrome (latest)
Expected behavior:
Send E-Mails from Zammad via Exchange
Actual behavior:
Zammad wont connect to Exchange Account: "Authentication failed"
I added the same Exchange Account to my Outlook as IMAP Account an IMAP and SMTP is working fine, i can send and recieve E-Mails. On Zammad, i did the same: IMAP working fine, but SMTP always tells me that "Authentication failed".
Here are my settings: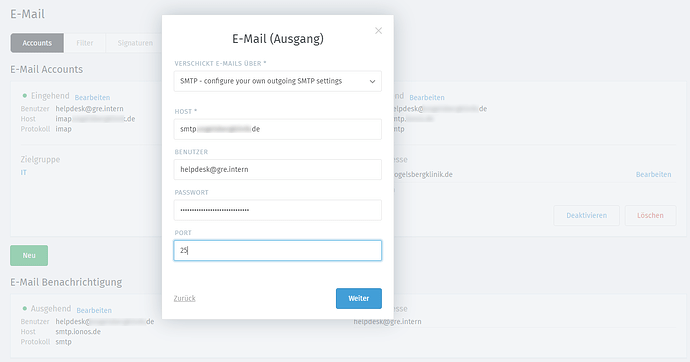 What am i doing wrong? In Outlook i added the same Account and checked "SMTP needs Auth" and "Same auth as Incomming Mailserver" (or how ever this is called in Englisch Outlook) and the account is working fine there.
Many thanks for the help in advance