Used Zammad version: 2.8
Used Zammad installation source: From debian package
Operating system: debian 9
Browser + version: latest chrome
Hi,
I always have an issue when i try to connect to twitter. The message is always "unable to register to webhook". I'm already googling for the problem but still don't have an answer for it.
Twitter account is new and created only for zammad, never been used before.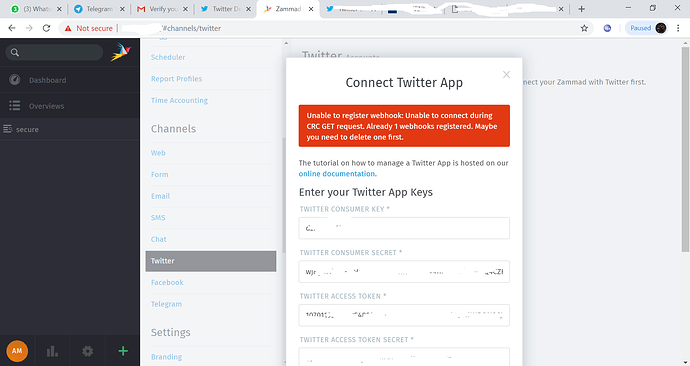 log from production.log is :
I, [2018-12-05T10:21:41.956535 #25584-47009976787740] INFO – : execute Channel.fetch (try_count 0)…
I, [2018-12-05T10:22:09.655789 #25586-47457992852980] INFO – : Started GET "/" for 60.191.38.77 at 2018-12-05 10:22:09 +0700
I, [2018-12-05T10:22:09.659256 #25586-47457992852980] INFO – : Processing by InitController#index as /
I, [2018-12-05T10:22:09.672381 #25586-47457992852980] INFO – : Rendering init/index.html.erb within layouts/application
I, [2018-12-05T10:22:09.672493 #25586-47457992852980] INFO – : Rendered init/index.html.erb within layouts/application (0.0ms)
I, [2018-12-05T10:22:09.674679 #25586-47457992852980] INFO – : Completed 200 OK in 15ms (Views: 1.2ms | ActiveRecord: 10.5ms)
I, [2018-12-05T10:22:11.997400 #25584-47009976787740] INFO – : execute Channel.fetch (try_count 0)…
I, [2018-12-05T10:22:36.679727 #25584-47009967550700] INFO – : execute Import::OTRS.diff_worker (try_count 0)…
I, [2018-12-05T10:22:37.380825 #25584-47009912647520] INFO – : Scheduler running…
I, [2018-12-05T10:22:37.385904 #25584-47009912647520] INFO – : Running job thread for 'Check streams for Channel' (Channel.stream) status is: sleep
I, [2018-12-05T10:22:37.386149 #25584-70317709866860] INFO – : Started job thread for 'Process auto unassign tickets' (Ticket.process_auto_unassign)…
I, [2018-12-05T10:22:37.396587 #25584-70317709866860] INFO – : execute Ticket.process_auto_unassign (try_count 0)…
I, [2018-12-05T10:22:37.404460 #25584-70317709866860] INFO – : …stopped thread for 'Ticket.process_auto_unassign'
I, [2018-12-05T10:22:42.013051 #25584-47009976787740] INFO – : execute Channel.fetch (try_count 0)…
Any help would be much appreciated
regards,
Ignatius Gayuh