Infos:
Used Zammad version: 5.0.1
Used Zammad installation type: (source, package, docker-compose, …) package
Operating system: Ubuntu 18.04 LTS
Browser + version: Firefox 93
Expected behavior:
Being able to close a tab/ticket that has not been changed without being told that something has changed. User avatars should only display the pen symbol when they are editing the ticket.
Actual behavior:
Zammad tells me that I changed something on a new ticket when trying to close the tab on the left side which is not the case. Also every user that opens the ticket has a little pen on his avatar although they are not editing the ticket. This does not happen with older tickets that have already been answere, closed or edited in some way.
Steps to reproduce the behavior:
open new ticket and try to close the tab again without changing anything else.
This is the notification we get when simply looking at a ticket and trying to close the tab on the left side afterwards.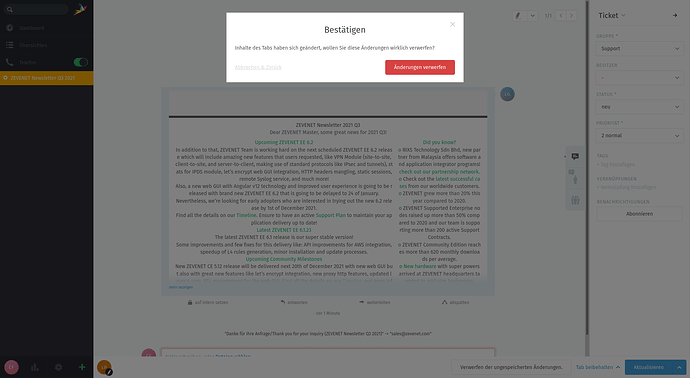 Does anyone see the same behavior in their zammad instance ? We also have a dev system that is on the exact same version and does not show this behavior. I had a look at the log files but they don't show any error.