Infos:
Used Zammad version: 5.0
Used Zammad installation type: package
Operating system: Ubuntu 18.04
Browser + version:
I specified multiple Postmaster filters using regex to add a new incoming email to a specific group if the regex matches. I used regex101.com to verify my query, copied the regex to the postmaster filter and prefixed it with "regex:".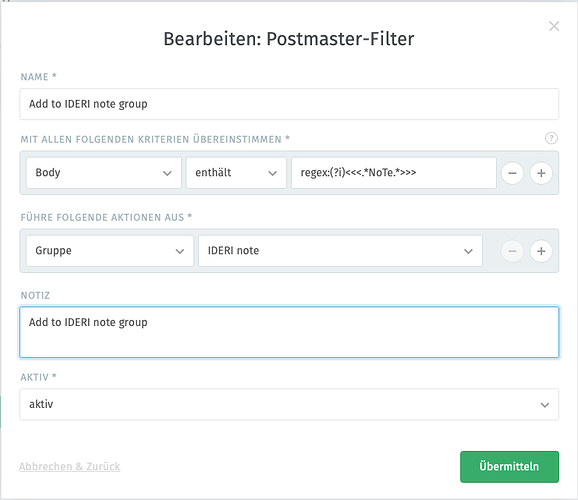 The filter is set to "regex:(?i)<<<.NoTe.>>>".
Afterwards I sent an email to the system with the string "<<< note >>>" in the body of the mail.
Expected behavior:
A new incoming email should be automatically added to the specific group as specified in the Postmaster filter.
Actual behavior:
All new emails are added to the default group "uncategorized". It seems as if the Postmaster filter is not working.
Am I doing something wrong? Am I missing something?
I didn't find anything in the production.log. How can I troubleshoot this? Where do I have to look?
Thanks in advance.
Regards