Infos:
Used Zammad version: 4.0.x
Installation method (source, package, …): Package
Operating system: Debian 10 (Buster)
Database + version: Postgres 11.11
Elasticsearch version: 7.7
Browser + version: Google Chrome V89.0.X
Expected behavior:
*Synced (and added) LDAP users show up under User Tab, to assign specific users certain roles.
Actual behavior:
*Users are synced, and can login, however only a handful show up under the Users tab, and even when searching manually for a user, they don't show up, so I can't assign them roles. As shown in the image below, users are synced, as expected. I can't show the user tab, for reasons of privacy.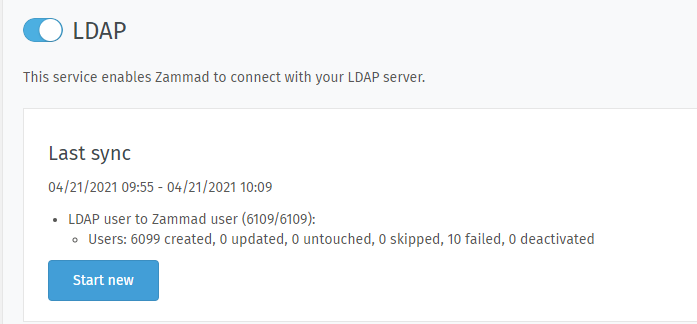 Steps to reproduce the behavior:
*Install Zammad via documentation, sync with LDAP (in my case 6000+ Users).