Infos:
Used Zammad version: 3.4
Used Zammad installation source: Package
Operating system: CentOS
Browser + version: current versions of Safari & Chrome
Hi everyone, I'm new to Zammad but have a little knowledge of Ruby on Rails / Console. We are in the midst of configuring our own instance of Zammad and come across this unusual configuration setting. I'm wondering if anyone might know how to fix it. It's not causing any apparent issues through so probably not critical.
Expected behaviour:
I was expecting to have just one outbound email configuration. In our test implementation this was correct.
Actual behavior:
Some how, our production installation has now got 4 outbound email accounts or 4 instances of the same and they all have the same address. I've attached a screen shot for context.
Sending email seems to work fine though so I think this is just a bug or duplicated records/configuration?
Does anyone know how I might check or fix this?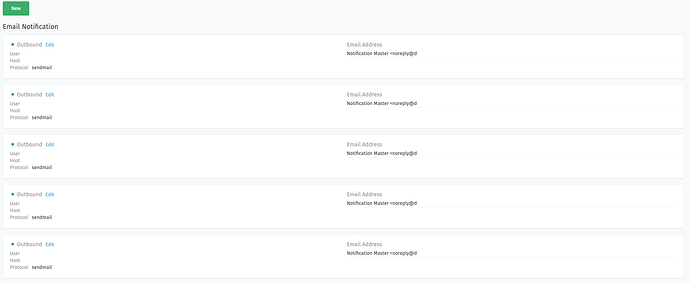 Steps to reproduce the behaviour:
Unfortunately, I've no idea how this might have occurred. The server has been running for about a month and was noticed after the first week.