Infos:
Used Zammad version: 5.1.1-1651218076.e3861908.centos7
Used Zammad installation type: yum
Operating system: CentOS 7
Browser + version:

Firefox 91.3.0esr
Chrome 90.0.4430.85
Edge 101.0.1210.32
Expected behavior:
Login page won't reload some of it's DOM-Elements each 5 seconds
Actual behavior:
The DOM element

#app

reloads its child elements every 5 seconds, this results in clearing the username and password fields
if you are fast enough in typing, you can login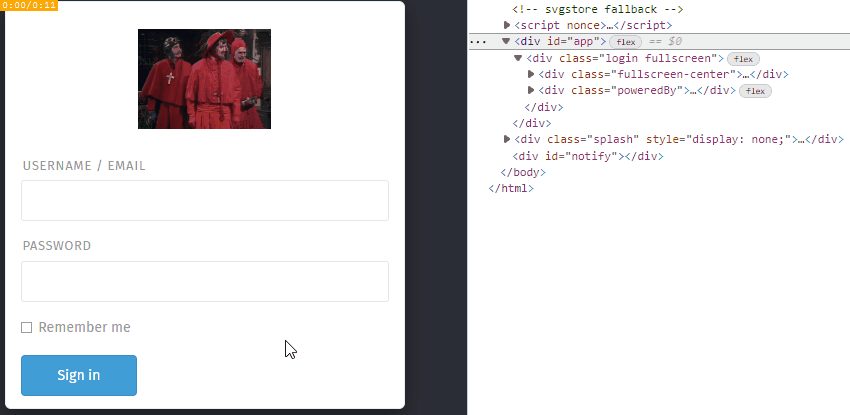 Steps to reproduce the behavior:
Background
We currently have several instances of Zammad running (as a VM).
One of these instances was unfortunately neglected, so it is still running on version 2.6.0.
I wanted to upgrade it to the latest version, but since it is a production instance, I wanted to test it with a clone first.
The update was done step by step, 2.6.0 → 3.0.0 → 3.6.0 → 4.0.0 → 5.1.1 considering all dependencies of Elasticsearch and Postgresql.
I have checked each version for functionality and the behavior only occurs since the update to 5.1.1.
The same problem existed here before, but was closed due to non-response → 2.9.x login issue after upgrade · Issue #2523 · zammad/zammad · GitHub
Answer to the asked questions in the old issue:
Something in the productive.log: unfortunately no

Also nothing in zammad.access.log, zammad.error.log, nginx.log

Are there change on files (e.q. CSS):

in /opt/zammad/ no
becaus it is a clone, I hat to change the hostname to -klon, and also changed it in the /etc/nginx/nginx.conf and /etc/nginx/conf.d/zammad.conf
created an self-signed certificate for the new hostname

zammad run rake db:migrate was execuded
zammad run rake searchindex:rebuild was execuded
zammad run rake assets:precompile was execuded