Infos:
Used Zammad version: 4.1.x
Used Zammad installation type: package
Operating system: Linux Ubuntu
Browser + version: Newest Chrome
Expected behavior:
Zammad syncs our Users via LDAP from Active Directory. They just need to be member of group A or group B.
Actual behavior:
Nearly 50% of our users get skipped - and I don't know why. Because they get skipped, they also get disabled. And we can't create tickets with disabled customers…
I saw this a few weeks ago - probably it appears since zammad 4.1 update(from 4.0).


Steps to reproduce the behavior:
have some users in active directory(we have ~2500 if thats important)
Put 50% of them in group A, the remaining 50% in group B.
Build a User Filter like this: (In Microsoft Active Directory the Filter works just fine!)
(&(objectClass=user)(|(memberOf=CN=GROUP_A,OU=TEST,DC=TEST,DC=de)(memberOf=CN=GROUP_B,OU=TEST,DC=TEST,DC=de)))
Sync the ldap some times
I really don't know what is going wrong here, and I tried to see what I was doing wrong here. My Colleague who knows more about LDAP-Syncs tried to find the issue too. But he said everything looks right, he double checked it, and in AD it works. So it looks like Zammad need to be wrong here?
Below some LDAP-Config-Infos: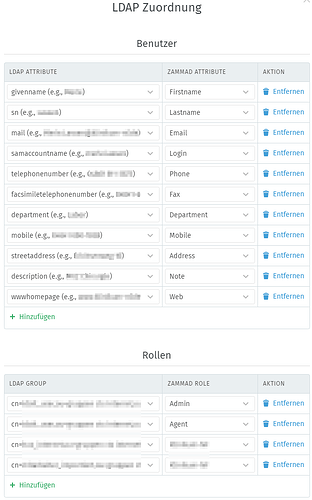 Thanks for any help