Infos:
Used Zammad version: 5.0.2
Used Zammad installation type: package
Operating system: CentOS 8.3.2011
Browser + version: Chrome latest
Actual behavior:
I want to create a Macro for SPAM tickets. On some of those tickets, we have to change the customer, as the email address of the sender is a "bounce back" address and tickets keep re-opening. Thus, Ive set the following Macro: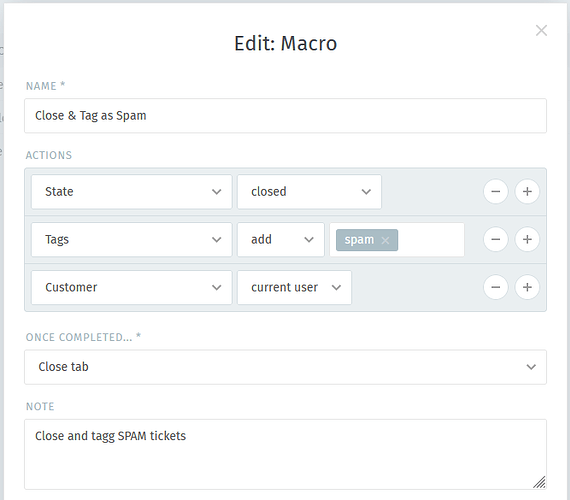 When I apply the Macro on the spam tickets, I do get the following error message:

I tried debugging the customer_id field for my user (the current user while running the Macro) in the rails console, but seems like customer_id is not a user field.
irb(main):015:0> User.find(8).customer_id
Traceback (most recent call last):
        1: from (irb):15
NoMethodError (undefined method `customer_id' for #<User:0x0000562ada93aae8>)
Did you mean?  customer_ticket_ids

Manually changing the Customer, applying the tag and closing the ticket works as expected.
Any idea on how to make the Marcro work? Thanks much
Sebastian