Infos:
Used Zammad version: 4.0 (and 3.6)
Used Zammad installation type: package
Operating system: Ubunutu 18.04
Browser + version: Firefox V87
Expected behavior:
Setup Email account / email notifications on the Zammad Web UI.
Actual behavior:
Receive an error of "end of file reached"
Steps to reproduce the behavior:
Within the web UI go to settings > email > new. enter details for pop server and then SMTP server, error message is then displayed as per below screenshot.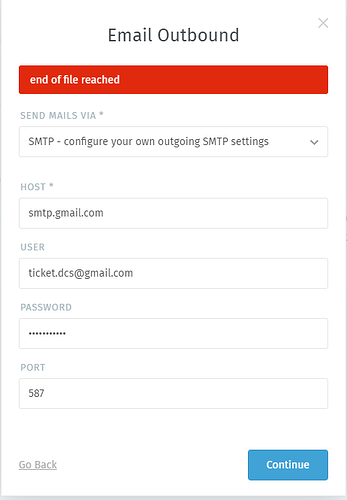 I noticed this issue a week ago while running Zammad V3.6, I upgraded to V4.0 in the hopes it would fix or potentially give a different error, but it changed nothing.
I created a new Zammad install V4.0 on Ubunutu 20.04 and restored the backup from yesterday and I have the same issues on that server aswell.
I have tried a Gmail and Outlook account and both have the same issues. Any help with this error would be amazing or just an explanation as to the cause.
I'm no expert on Ubuntu so if you need logs you will have to explain where to find them.
Thank you.