Infos:
Used Zammad version: 5.3.1-1674057058.5f657f26.focal
Used Zammad installation type: Package Install
Operating system: Ubuntu 20.04.5 TLS
Browser + version: Chrome 109.0.5414.75 (Official Build) (64-bit)
Expected behavior:
When I select 'OneDrive/Drop Box Access' as a Request (custom Object) fields should appear in accordance to what was set in the Core Workflow
Actual behavior:
Only the default values stay as specified in the Object permission. I switch the request to a different option (IT helpdesk) and all the objects for OneDrive/Drop Box access request show up for IT helpdesk (which they shouldnt)
Steps to reproduce the behavior:
Create a list of objects that should only appear when Request is OneDrive/Drop Box access. The only object that is configured as Shown and Required is the Request object where the user selects the helpdesk option
As shown below: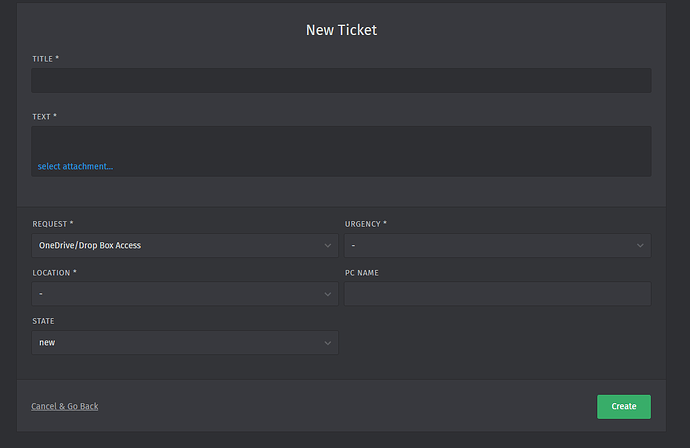 Any help with this would be appreciated. To give a broad overview of what I'm trying to do accomplish is to allow the user to specify what type of ticket they need to forward the tickets to the appropriate agents. So far, the interaction between Object permissions (showing/requiring) and trying to use the Core Workflow rules has not been as intuitive as I would have thought. Some cases being fields are there, but as soon as I type anything into any field and click out of the field, the custom objects disappear if they are not checked to 'Show' in their object properties, and the workflow rule makes them show up.