Infos:
Used Zammad version: 3.3
Used Zammad installation source: (source, package, …) package
Operating system: Centos7
Browser + version: Chrome on Linux
Expected behavior:
Actual behavior:
Steps to reproduce the behavior:
I created a search and I'd like to save it (similar to Overview) so I can call that search/filter regularly.
The search allows for better filtering than overviews, for instance I can use a * in the queue name (custom field) or in other fields. I can also play with ANDs and ORs.
Is it possible to save those searches so I can re-use them or re-run them, or is it possible to get better granularity on the overviews
Here's an example of a search that I can't reproduce in the Overviews:
owner.email:fgaspar@nixe.co.uk AND state:(open OR new) AND queue:Support*
On the attachment you can see the definition of the queue field. I want to be able to filter ALL the sub-categories of support or all the sub-categories of development. Overviews only allow me to select one.
If the functionality is not available, can I somehow create that condition directly on the the database in the overviews table?
Thanks in advance,
Federico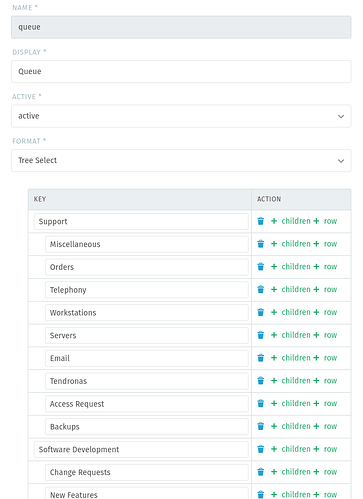 *