Infos:
Used Zammad version: 3.2.0-1576861015.528479ce
Used Zammad installation source: package
Operating system: CentOS Linux release 7.7.1908 (Core)
Browser + version: Safari 13, Chrome 79, Firefox (not sure, latest)
Expected behavior:
LDAP should connect as per documentation and allow further configuration of filters/parameters.
Actual behavior:
After introducing the ldap URI (ldaps://ip|host) we instantly get an error "Can't connect to 'ds01.ldap.host' on port '636', Can't bind to 'ds01.ldap.host', 49, Invalid Credentials"
Steps to reproduce the behavior:
Enable LDAP integration and add Apache Directory LDAP URI
Hi,
We're using Apache Directory (ldapv3 compliant server) as our source and when configuring the LDAP integration we never get past the intial screen which seems to try to bind without credentials.
The production.log shows "E, [2020-01-07T18:06:58.558776 #24255-47412182782020] ERROR – : Can't bind to 'ds01.ldap.host', 49, Invalid Credentials (Exceptions::UnprocessableEntity)" and then a long stacktrace (I believe) but nothing regarding base/bind_dn which of course were never provided as we did not get to that screen.
Seeing the above behaviour I setup the ldap_config using zammad console and it does show-up in the UI but the results are exactly the same. Of interest is the fact that I did specify a correct bind_dn/user filters, etc.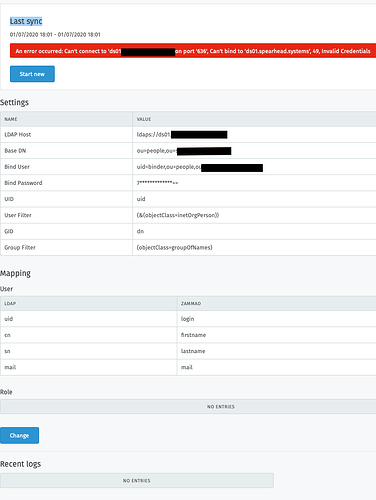 We're sure our ldap is working and the filters are correct but happy to take another look if someone could point us in the right direction. We're at a bit of a loss as we're getting failures without actually having gotten to the point (at least in the UI) where we specify the credentials.
Thanks!
Marius
Here is the ldap_config for reference:
Setting.get('ldap_config')
=> {"host_url"=>"ldaps://ds01.ldap.host", "ssl_verify"=>false, "base_dn"=>"ou=people,ou=ldap,o=host", "bind_user"=>"uid=binder,ou=people,ou=ldap,o=host", "bind_pw"=>"secretpass", "user_uid"=>"uid", "user_filter"=>"(&(objectClass=inetOrgPerson))", "group_uid"=>"dn", "group_filter"=>"(objectClass=groupOfNames)", "user_attributes"=>{"uid"=>"login", "cn"=>"firstname", "sn"=>"lastname", "mail"=>"mail"}, "group_role_map"=>{}}