Infos:
Used Zammad version: 3.4.0
Used Zammad installation source: source
Operating system: Debian 10
Browser + version: latest Firefox or Chrome
Expected behavior:
If the agent answers in a ticket, his answer should only appear once in the ticket overview.
Actual behavior:
When the agent replies in a ticket, he sees his reply and a short time later the same reply again. If the agent has closed the ticket with his first answer, the ticket is open again after the second answer appears.
The customer gets the answer only once.
Steps to reproduce the behavior:
I'm not sure. We use the Google channel to retrieve and send our mails. We integrated the G-Suite account "support@unsereFirma.de" into Zammad this way.
I attach screenshots to show the problem: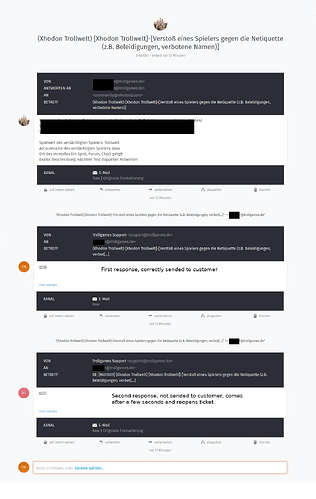 Another observation of mine: when I download the raw eml files from both answers, they are almost the same. In the second email the following lines are added to the beginning of the file, which are missing in the first answer:
Return-Path: support@trollgames.de
Received: from gmail.com ([2a01:488:66:1000:b24d:4b84:0:1])
by smtp.gmail.com with ESMTPSA id s19sm11540922wrb.54.2020.07.30.06.29.38
for <:redacted:r@trollgames.de>
(version=TLS1_3 cipher=TLS_AES_256_GCM_SHA384 bits=256/256);
Thu, 30 Jul 2020 06:29:38 -0700 (PDT)
It looks to me like gmail and Zammad don't really agree on whether the mail has been sent or not. And that's why Zammad stores the same email twice in its database. But in the end I have no idea and need your help.