Infos:
Used Zammad version: 3.4.0
Used Zammad installation source: DEB
Operating system: Ubuntu 18.04 LTS
Browser + version: Firefox 77.0.1 (x64)
Hi guys,
I'm trying to add an e-mail mailbox in Zammad.
We're using an Exchange 2010 server with IMAP and SMTP enabled. IMAP and SMTP test was successful with other applications. When adding the mailbox in zammad, I get the error message "504 5.7.4 Unrecognized authentication type", no matter which port I use, either 25 or 587. Port 465 isn't reachable for our Exchange Server. The user credencials are correct since the test with IMAP and SMTP are successful in other applications.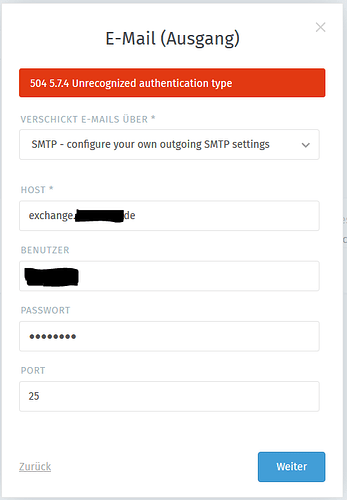 Expected behavior:
E-mail account should be added to send and receive e-mails through Zammad
Actual behavior:
E-mail adding process ends with error message "504 5.7.4 Unrecognized authentication type"
Steps to reproduce the behavior:
Go into settings - e-mail
Click Add
Configure an IMAP mailbox
Enter SMTP settings for Exchange 2010 server with port 25 or 587