Infos:
Used Zammad version: 5.0.3-14
Used Zammad installation type: docker-compose
Operating system: Ubuntu 20.04
Browser + version: All browsers (Chrome, Edge Firefox)
Docker is using Traefik as Reverse Proxy.
Expected behavior:
Clicking the "Office 365" button prompts to login with Office365 and login is granted when the correct credentials are inserted
Actual behavior:
Zammad immediately gives you the following error:
class="error-message"<% end %>>
422: The change you wanted was rejected.
<% if @message.present? %>
<%= @message %>
<% end %> <% if !@traceback %>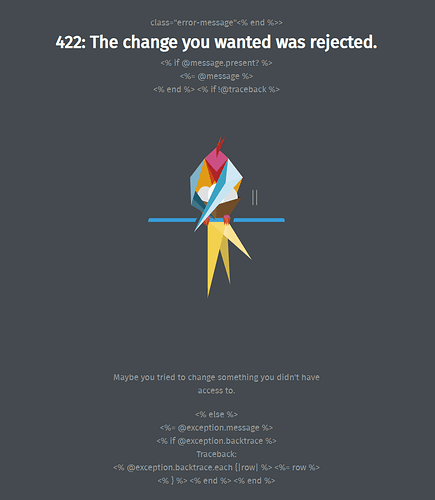 It is the same in all web browsers and incognito mode.
It does not matter if you're already logged in with Office 365 or not.
Steps to reproduce the behavior:
Enable M365 in the Security settings and fill the required information for Client ID and Client Secret.
Try logging in with the Office 365 button.
I know the Application in Azure is correctly configured as I used it before in a K8S setup, but we later decided against it in favor of Docker.
I have searched other similar issues in this forum but non of the suggested issues have helped.
docker-compose.override.yml file: Zammad docker-compose.override.yml - Pastebin.com