Infos:
Used Zammad version: 3.1.x
Used Zammad installation source: (source, package, …)
Operating system: Ubuntu Linux 16.04.6
Browser + version: Firefox 69.0.1 (64-Bit)
The way we work in your company:
We are working by the following rules:
By response of a customer the ticket will automatically set to status "open".
If we need some days to work on the ticket we set it to status "in progress".
If we await a answer of the customer we set it to "waiting for customer".
Expected behavior:
I would like to have a SLA for all tickets with the state new or open.
They should escalate if there was no answer from your team within a specific time. In this example I set it to 5 min for demonstration.
Now i expect the following:
Response of the customer: Ticket will be set to "open".
Ticket will escalate if there is no response from the team within the next 5 min.
Actual behavior: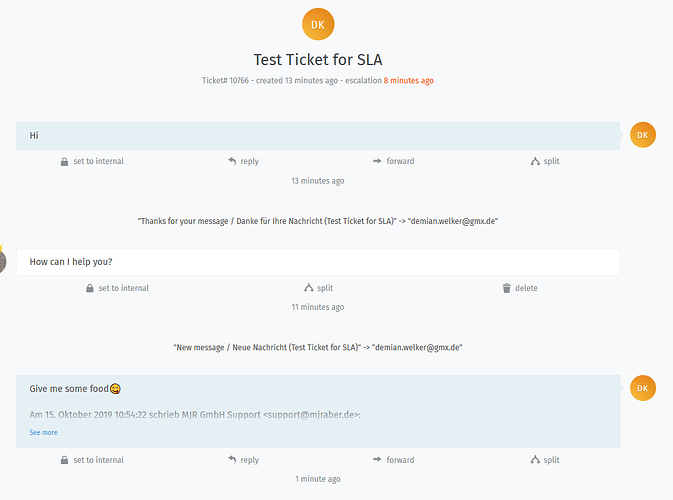 As you can see, the last customer response was 1 min ago and the ticket is already escalated.
The following happens:
Response of the customer: Ticket is set to "open".
Ticket escalates directly because the last response of the team as not within the last 5 min.
Can someone please tell which setup will be right for our use case?
I am very grateful for any help.
Steps to reproduce the behavior:
I used the following SLA and Calender: