Infos:
Used Zammad version: 3.2.0-1567170593.c8ef7698.bionic
Used Elasticsearch version: 5.6.16
Used Zammad installation source: package
Operating system: Ubuntu 18.04
Browser + version: Firefox 68.0.2
Expected behavior:
Clean install of zammad works
Actual behavior:
At the moment, i could not install zammad due to an error in postinstall
Steps to reproduce the behavior:
Zammad still was installed successfully on my system and worked well … until something went wrong within an update. Since then, i get an error everytime i try to update my zammad version: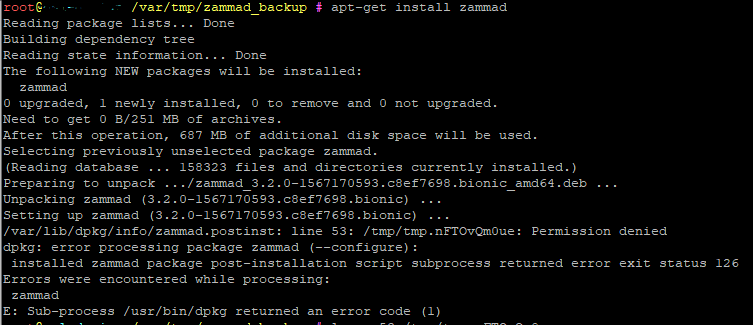 The mentioned "permission denied" error regarding the newly created temp file is very strange: the postinstall script created the file, has written all the postinstall stuff in it and set the execution flag. But the error appears anyway.
I tried everything to solve this issue including the manual installation of older versions, but nothing worked. The last thing i've tried was to completely remove zammad from my machine and delete all files and folders. But i still get this strange error.
Any other packages could be installed without any problems and i didn't found additional hints in any logfile (syslog etc.)
Anyone an idea what i can do?
Thanks and regards,
Andreas