Infos:
Browser + version: Firefox latest
Expected behavior:
properly processed template
Actual behavior: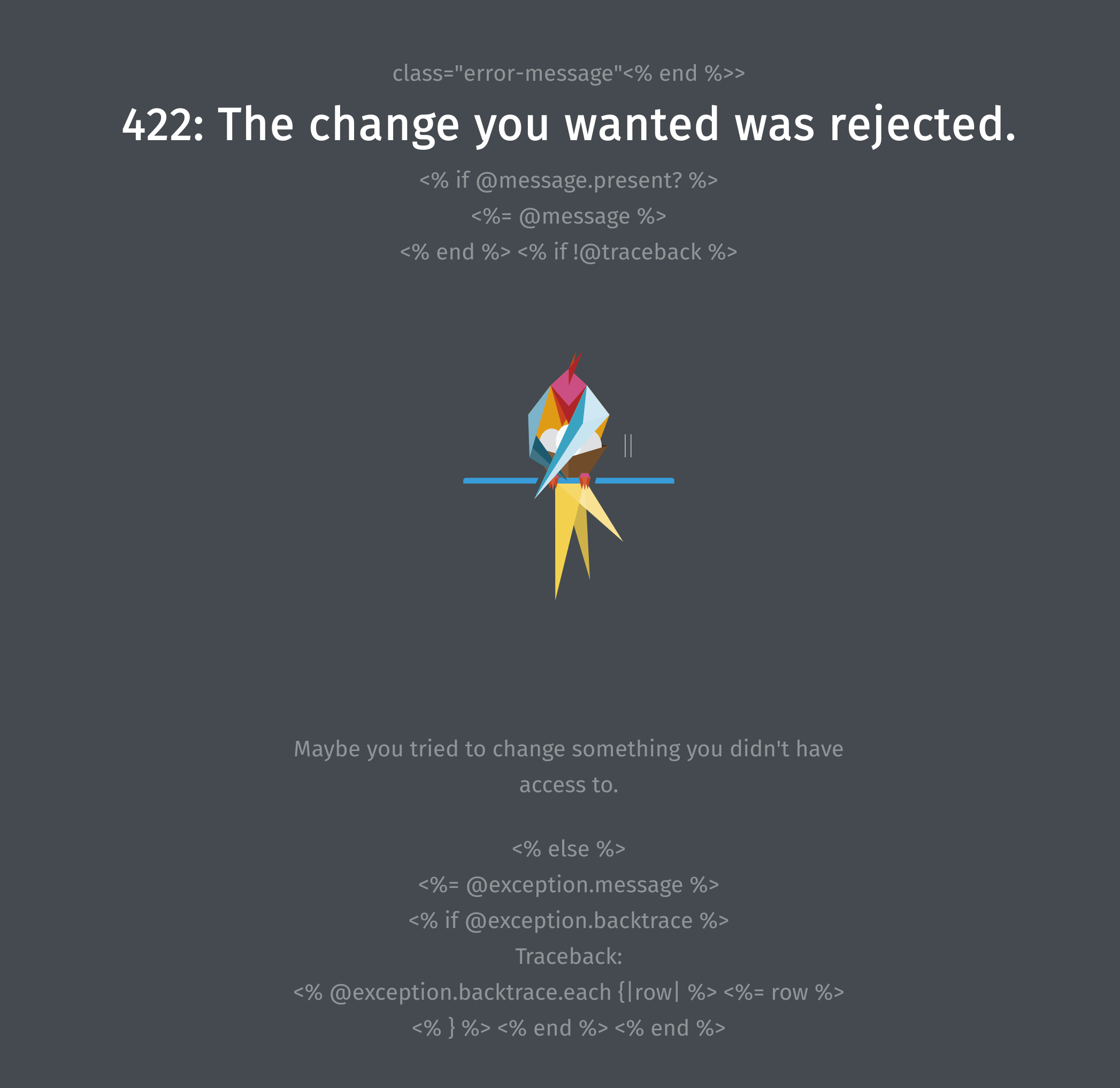 So what exactly is your take here?
I mean except for spamming around.
I have set the oauth2 with github, microsoft and linkedin. with a url in localhost it works very well with a NDD not. tell me why I am all ears

I can't follow what your problem is.
Any way, have a look into the production log as it will tell you why it did refuse the change.
zammad-nginx_1 | 172.18.0.1 - - [16/May/2022:08:36:53 +0000] "POST /api/v1/signshow HTTP/1.1" 200 3824 "https://59bd-2a01-cb1d-820e-fa00-c833-7036-5eb0-7c63.eu.ngrok.io/" "Mozilla/5.0 (Macintosh; Intel Mac OS X 10_15_7) AppleWebKit/537.36 (KHTML, like Gecko) Chrome/101.0.4951.64 Safari/537.36"
zammad-railsserver_1 | I, [2022-05-16T08:36:53.314500 #1-184540] INFO – : Started GET "/api/v1/translations/lang/en-us?=1652690212965" for 172.18.0.1 at 2022-05-16 08:36:53 +0000
zammad-railsserver_1 | I, [2022-05-16T08:36:53.318877 #1-184540] INFO – : Processing by TranslationsController#lang as JSON
zammad-railsserver_1 | I, [2022-05-16T08:36:53.319007 #1-184540] INFO – : Parameters: {""=>"1652690212965", "locale"=>"en-us"}
zammad-railsserver_1 | I, [2022-05-16T08:36:53.364246 #1-184540] INFO – : Completed 200 OK in 45ms (Views: 25.4ms | ActiveRecord: 5.1ms | Allocations: 46376)
zammad-nginx_1 | 172.18.0.1 - - [16/May/2022:08:36:53 +0000] "GET /api/v1/translations/lang/en-us?_=1652690212965 HTTP/1.1" 200 50102 "https://59bd-2a01-cb1d-820e-fa00-c833-7036-5eb0-7c63.eu.ngrok.io/" "Mozilla/5.0 (Macintosh; Intel Mac OS X 10_15_7) AppleWebKit/537.36 (KHTML, like Gecko) Chrome/101.0.4951.64 Safari/537.36"
zammad-railsserver_1 | I, [2022-05-16T08:36:53.850049 #1-184480] INFO – : Started GET "/ucp/78:45:58:63:b9:dc" for 172.18.0.1 at 2022-05-16 08:36:53 +0000
zammad-railsserver_1 | I, [2022-05-16T08:36:53.856271 #1-184480] INFO – : Processing by ErrorsController#routing as HTML
zammad-railsserver_1 | I, [2022-05-16T08:36:53.856350 #1-184480] INFO – : Parameters: {"a"=>"ucp/78:45:58:63:b9:dc"}
zammad-railsserver_1 | E, [2022-05-16T08:36:53.866605 #1-184480] ERROR – : No route matches [GET] /ucp/78:45:58:63:b9:dc (ActionController::RoutingError)
zammad-railsserver_1 |
zammad-railsserver_1 | I, [2022-05-16T08:36:53.867456 #1-184480] INFO – : Rendering inline template
zammad-railsserver_1 | I, [2022-05-16T08:36:53.868280 #1-184480] INFO – : Rendered inline template (Duration: 0.7ms | Allocations: 267)
zammad-railsserver_1 | I, [2022-05-16T08:36:53.870407 #1-184480] INFO – : Completed 404 Not Found in 14ms (Views: 1.3ms | ActiveRecord: 4.2ms | Allocations: 3175)
zammad-nginx_1 | 172.18.0.1 - - [16/May/2022:08:36:53 +0000] "GET /ucp/78:45:58:63:b9:dc HTTP/1.1" 404 479 "-" "-"
zammad-railsserver_1 | I, [2022-05-16T08:36:54.932611 #1-183860] INFO – : Started POST "/auth/github" for 172.18.0.1 at 2022-05-16 08:36:54 +0000
zammad-railsserver_1 | I, [2022-05-16T08:36:54.936008 #1-183860] INFO – : (github) Request phase initiated.
zammad-railsserver_1 | F, [2022-05-16T08:36:54.940620 #1-183860] FATAL – :
zammad-railsserver_1 | [df1c2e90-dd38-4b08-af6a-5a1415bb14d4] ActionController::InvalidAuthenticityToken (ActionController::InvalidAuthenticityToken):
zammad-railsserver_1 | [df1c2e90-dd38-4b08-af6a-5a1415bb14d4]
zammad-railsserver_1 | [df1c2e90-dd38-4b08-af6a-5a1415bb14d4] omniauth-rails_csrf_protection (0.1.2) lib/omniauth/rails_csrf_protection/token_verifier.rb:34:in call' zammad-railsserver_1 | [df1c2e90-dd38-4b08-af6a-5a1415bb14d4] omniauth (1.9.1) lib/omniauth/strategy.rb:209:in request_call'
zammad-railsserver_1 | [df1c2e90-dd38-4b08-af6a-5a1415bb14d4] omniauth (1.9.1) lib/omniauth/strategy.rb:188:in call!' zammad-railsserver_1 | [df1c2e90-dd38-4b08-af6a-5a1415bb14d4] omniauth (1.9.1) lib/omniauth/strategy.rb:169:in call'
zammad-railsserver_1 | [df1c2e90-dd38-4b08-af6a-5a1415bb14d4] omniauth (1.9.1) lib/omniauth/strategy.rb:192:in call!' zammad-railsserver_1 | [df1c2e90-dd38-4b08-af6a-5a1415bb14d4] omniauth (1.9.1) lib/omniauth/strategy.rb:169:in call'
zammad-railsserver_1 | [df1c2e90-dd38-4b08-af6a-5a1415bb14d4] omniauth (1.9.1) lib/omniauth/strategy.rb:192:in call!' zammad-railsserver_1 | [df1c2e90-dd38-4b08-af6a-5a1415bb14d4] omniauth (1.9.1) lib/omniauth/strategy.rb:169:in call'
zammad-railsserver_1 | [df1c2e90-dd38-4b08-af6a-5a1415bb14d4] omniauth (1.9.1) lib/omniauth/strategy.rb:192:in call!' zammad-railsserver_1 | [df1c2e90-dd38-4b08-af6a-5a1415bb14d4] omniauth (1.9.1) lib/omniauth/strategy.rb:169:in call'
zammad-railsserver_1 | [df1c2e90-dd38-4b08-af6a-5a1415bb14d4] omniauth (1.9.1) lib/omniauth/strategy.rb:192:in call!' zammad-railsserver_1 | [df1c2e90-dd38-4b08-af6a-5a1415bb14d4] omniauth (1.9.1) lib/omniauth/strategy.rb:169:in call'
zammad-railsserver_1 | [df1c2e90-dd38-4b08-af6a-5a1415bb14d4] omniauth (1.9.1) lib/omniauth/builder.rb:45:in call' zammad-railsserver_1 | [df1c2e90-dd38-4b08-af6a-5a1415bb14d4] rack-attack (6.6.0) lib/rack/attack.rb:127:in call'
zammad-railsserver_1 | [df1c2e90-dd38-4b08-af6a-5a1415bb14d4] rack (2.2.3) lib/rack/tempfile_reaper.rb:15:in call' zammad-railsserver_1 | [df1c2e90-dd38-4b08-af6a-5a1415bb14d4] rack (2.2.3) lib/rack/etag.rb:27:in call'
zammad-railsserver_1 | [df1c2e90-dd38-4b08-af6a-5a1415bb14d4] rack (2.2.3) lib/rack/conditional_get.rb:40:in call' zammad-railsserver_1 | [df1c2e90-dd38-4b08-af6a-5a1415bb14d4] rack (2.2.3) lib/rack/head.rb:12:in call'
zammad-railsserver_1 | [df1c2e90-dd38-4b08-af6a-5a1415bb14d4] actionpack (6.0.4.8) lib/action_dispatch/http/content_security_policy.rb:18:in call' zammad-railsserver_1 | [df1c2e90-dd38-4b08-af6a-5a1415bb14d4] rack (2.2.3) lib/rack/session/abstract/id.rb:266:in context'
zammad-railsserver_1 | [df1c2e90-dd38-4b08-af6a-5a1415bb14d4] rack (2.2.3) lib/rack/session/abstract/id.rb:260:in call' zammad-railsserver_1 | [df1c2e90-dd38-4b08-af6a-5a1415bb14d4] actionpack (6.0.4.8) lib/action_dispatch/middleware/cookies.rb:654:in call'
zammad-railsserver_1 | [df1c2e90-dd38-4b08-af6a-5a1415bb14d4] actionpack (6.0.4.8) lib/action_dispatch/middleware/callbacks.rb:27:in block in call' zammad-railsserver_1 | [df1c2e90-dd38-4b08-af6a-5a1415bb14d4] activesupport (6.0.4.8) lib/active_support/callbacks.rb:101:in run_callbacks'
zammad-railsserver_1 | [df1c2e90-dd38-4b08-af6a-5a1415bb14d4] actionpack (6.0.4.8) lib/action_dispatch/middleware/callbacks.rb:26:in call' zammad-railsserver_1 | [df1c2e90-dd38-4b08-af6a-5a1415bb14d4] actionpack (6.0.4.8) lib/action_dispatch/middleware/actionable_exceptions.rb:18:in call'
zammad-railsserver_1 | [df1c2e90-dd38-4b08-af6a-5a1415bb14d4] actionpack (6.0.4.8) lib/action_dispatch/middleware/debug_exceptions.rb:32:in call' zammad-railsserver_1 | [df1c2e90-dd38-4b08-af6a-5a1415bb14d4] actionpack (6.0.4.8) lib/action_dispatch/middleware/show_exceptions.rb:33:in call'
zammad-railsserver_1 | [df1c2e90-dd38-4b08-af6a-5a1415bb14d4] railties (6.0.4.8) lib/rails/rack/logger.rb:37:in call_app' zammad-railsserver_1 | [df1c2e90-dd38-4b08-af6a-5a1415bb14d4] railties (6.0.4.8) lib/rails/rack/logger.rb:26:in block in call'
zammad-railsserver_1 | [df1c2e90-dd38-4b08-af6a-5a1415bb14d4] activesupport (6.0.4.8) lib/active_support/tagged_logging.rb:80:in block in tagged' zammad-railsserver_1 | [df1c2e90-dd38-4b08-af6a-5a1415bb14d4] activesupport (6.0.4.8) lib/active_support/tagged_logging.rb:28:in tagged'
zammad-railsserver_1 | [df1c2e90-dd38-4b08-af6a-5a1415bb14d4] activesupport (6.0.4.8) lib/active_support/tagged_logging.rb:80:in tagged' zammad-railsserver_1 | [df1c2e90-dd38-4b08-af6a-5a1415bb14d4] railties (6.0.4.8) lib/rails/rack/logger.rb:26:in call'
zammad-railsserver_1 | [df1c2e90-dd38-4b08-af6a-5a1415bb14d4] actionpack (6.0.4.8) lib/action_dispatch/middleware/remote_ip.rb:81:in call' zammad-railsserver_1 | [df1c2e90-dd38-4b08-af6a-5a1415bb14d4] actionpack (6.0.4.8) lib/action_dispatch/middleware/request_id.rb:27:in call'
zammad-railsserver_1 | [df1c2e90-dd38-4b08-af6a-5a1415bb14d4] rack (2.2.3) lib/rack/method_override.rb:24:in call' zammad-railsserver_1 | [df1c2e90-dd38-4b08-af6a-5a1415bb14d4] rack (2.2.3) lib/rack/runtime.rb:22:in call'
zammad-railsserver_1 | [df1c2e90-dd38-4b08-af6a-5a1415bb14d4] activesupport (6.0.4.8) lib/active_support/cache/strategy/local_cache_middleware.rb:29:in call' zammad-railsserver_1 | [df1c2e90-dd38-4b08-af6a-5a1415bb14d4] actionpack (6.0.4.8) lib/action_dispatch/middleware/executor.rb:14:in call'
zammad-railsserver_1 | [df1c2e90-dd38-4b08-af6a-5a1415bb14d4] rack (2.2.3) lib/rack/sendfile.rb:110:in call' zammad-railsserver_1 | [df1c2e90-dd38-4b08-af6a-5a1415bb14d4] actionpack (6.0.4.8) lib/action_dispatch/middleware/host_authorization.rb:97:in call'
zammad-railsserver_1 | [df1c2e90-dd38-4b08-af6a-5a1415bb14d4] railties (6.0.4.8) lib/rails/engine.rb:527:in call' zammad-railsserver_1 | [df1c2e90-dd38-4b08-af6a-5a1415bb14d4] railties (6.0.4.8) lib/rails/railtie.rb:190:in public_send'
zammad-railsserver_1 | [df1c2e90-dd38-4b08-af6a-5a1415bb14d4] railties (6.0.4.8) lib/rails/railtie.rb:190:in method_missing' zammad-railsserver_1 | [df1c2e90-dd38-4b08-af6a-5a1415bb14d4] puma (4.3.12) lib/puma/configuration.rb:228:in call'
zammad-railsserver_1 | [df1c2e90-dd38-4b08-af6a-5a1415bb14d4] puma (4.3.12) lib/puma/server.rb:727:in handle_request' zammad-railsserver_1 | [df1c2e90-dd38-4b08-af6a-5a1415bb14d4] puma (4.3.12) lib/puma/server.rb:476:in process_client'
zammad-railsserver_1 | [df1c2e90-dd38-4b08-af6a-5a1415bb14d4] puma (4.3.12) lib/puma/server.rb:332:in block in run' zammad-railsserver_1 | [df1c2e90-dd38-4b08-af6a-5a1415bb14d4] puma (4.3.12) lib/puma/thread_pool.rb:134:in block in spawn_thread'
zammad-nginx_1 | 172.18.0.1 - - [16/May/2022:08:36:54 +0000] "POST /auth/github HTTP/1.1" 422 727 "https://59bd-2a01-cb1d-820e-fa00-c833-7036-5eb0-7c63.eu.ngrok.io/" "Mozilla/5.0 (Macintosh; Intel Mac OS X 10_15_7) AppleWebKit/537.36 (KHTML, like Gecko) Chrome/101.0.4951.64 Safari/537.36"
zammad-nginx_1 | 172.18.0.1 - - [16/May/2022:08:36:55 +0000] "GET /ws HTTP/1.1" 101 151 "-" "Mozilla/5.0 (Macintosh; Intel Mac OS X 10_15_7) AppleWebKit/537.36 (KHTML, like Gecko) Chrome/101.0.4951.64 Safari/537.36"
zammad-scheduler_1 | I, [2022-05-16T08:37:05.337442 #1-183600] INFO – : execute Channel.fetch (try_count 0)…
zammad-scheduler_1 | I, [2022-05-16T08:37:05.338668 #1-183600] INFO – : ended Channel.fetch took: 0.008321332 seconds.
zammad-railsserver_1 | I, [2022-05-16T08:37:05.962999 #1-184360] INFO – : Started POST "/inform" for 172.18.0.1 at 2022-05-16 08:37:05 +0000
zammad-railsserver_1 | I, [2022-05-16T08:37:05.967889 #1-184360] INFO – : Processing by ErrorsController#routing as /
zammad-railsserver_1 | I, [2022-05-16T08:37:05.968014 #1-184360] INFO – : Parameters: {"a"=>"inform"}
zammad-railsserver_1 | E, [2022-05-16T08:37:05.978786 #1-184360] ERROR – : No route matches [POST] /inform (ActionController::RoutingError)
zammad-railsserver_1 |
zammad-railsserver_1 | I, [2022-05-16T08:37:05.980685 #1-184360] INFO – : Completed 404 Not Found in 13ms (Views: 0.2ms | ActiveRecord: 4.0ms | Allocations: 2764)
zammad-nginx_1 | 172.18.0.1 - - [16/May/2022:08:37:05 +0000] "POST /inform HTTP/1.1" 404 102 "-" "AirControl Agent v1.0"
zammad-railsserver_1 | I, [2022-05-16T08:37:06.129426 #1-184300] INFO – : Started POST "/inform" for 172.18.0.1 at 2022-05-16 08:37:06 +0000
zammad-railsserver_1 | I, [2022-05-16T08:37:06.134198 #1-184300] INFO – : Processing by ErrorsController#routing as /
zammad-railsserver_1 | I, [2022-05-16T08:37:06.134275 #1-184300] INFO – : Parameters: {"a"=>"inform"}
zammad-railsserver_1 | E, [2022-05-16T08:37:06.145377 #1-184300] ERROR – : No route matches [POST] /inform (ActionController::RoutingError)
zammad-railsserver_1 |
zammad-railsserver_1 | I, [2022-05-16T08:37:06.146979 #1-184300] INFO – : Completed 404 Not Found in 13ms (Views: 0.1ms | ActiveRecord: 4.6ms | Allocations: 2764)
zammad-nginx_1 | 172.18.0.1 - - [16/May/2022:08:37:06 +0000] "POST /inform HTTP/1.1" 404 102 "-" "AirControl Agent v1.0"
zammad-railsserver_1 | I, [2022-05-16T08:37:31.499460 #1-184540] INFO – : Started GET "/ucp/78:45:58:63:b9:60" for 172.18.0.1 at 2022-05-16 08:37:31 +0000
zammad-railsserver_1 | I, [2022-05-16T08:37:31.504589 #1-184540] INFO – : Processing by ErrorsController#routing as HTML
zammad-railsserver_1 | I, [2022-05-16T08:37:31.504671 #1-184540] INFO – : Parameters: {"a"=>"ucp/78:45:58:63:b9:60"}
zammad-railsserver_1 | E, [2022-05-16T08:37:31.515128 #1-184540] ERROR – : No route matches [GET] /ucp/78:45:58:63:b9:60 (ActionController::RoutingError)