Hi,
first and foremost thank you for your work on Zammad and for enabling this community to have a voice.
We are currently evaluating Zammad 5.0.3 on a test VM and like how easy we can customize the ticket dialog to ask for additional information and avoid having to call the user back and asking for simple stuff like asset numbers, therefore speeding up the ticket resolution process.
Having said that, I would like to see the option to add a help text to custom workflow objects.
Ticket objects currently only offer to add a Title and a standard value. Experience told us that the more information we provide to the users, the better. If we could add a description to each object guide the user it would be very helpful and ensure that there will be less frustration on the user side once we start asking for a lot of extra information when creating a ticket.
This would not only help our users but also our new hires and helpdesk interns when creating a ticket.
A quick mockup of how this could look: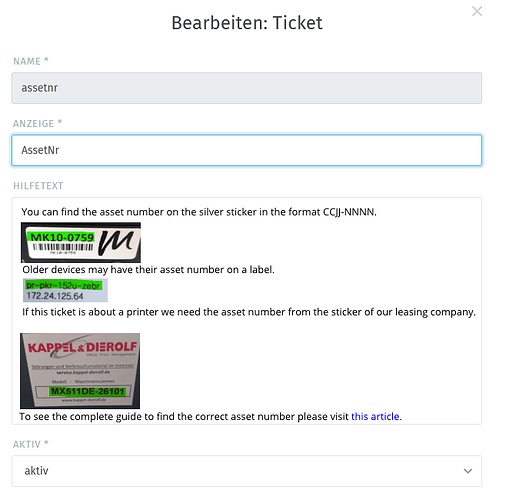 Showing this help text in the ticket creation view without blowing up sleek design could be done via the help circles that are already used on the zammad dashboard.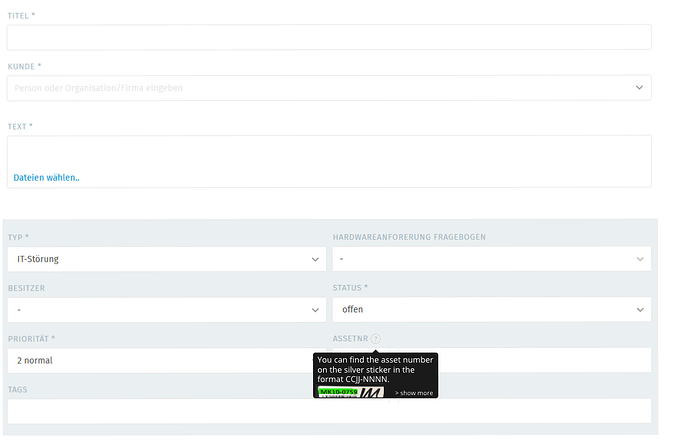 It should be possible to add rich text, pictures and hyperlinks.